Movie Times
Conveniently located on the Toronto subway line, the Empress Walk cinema is one of North York's most popular cinema destinations. Get the latest showtimes and movie information:
Blair Witch
14A, Horror, 90 min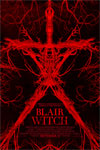 Blair Witch Trailer
Two decades after the events of The Blair Witch Project, a college student named James (James Allen McCune) comes across a video on the Internet that was shot in the haunted Black Hills forest in Maryland. He believes one of the people in the video is his missing sister Heather, who disappeared with her camera crew while investigating the legend of the Blair Witch. He and his filmmaker girlfriend Lisa (Callie Hernandez), along with friends Peter (Brandon Scott) and Ashley (Corbin Reid), head for the woods to search for Heather.
As Lisa documents their journey, they are joined by Lane (Wes Robinson) and Talia (Valorie Curry), the odd pair who posted the original footage to YouTube and now act as the group's guides. However, it doesn't take long before the group begins to encounter events that are eerily similar to those that Heather and her film crew had previously encountered. James follows an ominous figure he thinks is his sister to a house in the woods, but his girlfriend doesn't think that it's his sister at all.
Don't Breathe
14A, Horror, 86 min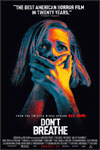 Don't Breathe Trailer
A group of young people break into the homes of the wealthy to find things to steal. Some things they keep, some things they sell. One of the thieves, Alex (Dylan Minnette), has a father who owns a security company, so they target his customers because Alex knows how to bypass their security systems. He's joined by Rocky (Jane Levy) and Money (Daniel Zovatto).
Money finds out about a blind military veteran (Stephen Lang) who won a major settlement after his child's accidental death. He thinks the veteran, who lives alone, has stashed the cash in his house.
They sedate the veteran's Rottweiler before entering the house. However, things don't go as planned. Although blind, the veteran is not nearly as helpless as they thought he would be.
Sully
PG, Drama, 96 min
Sully Trailer
American pilot Chesley Sullenberger (Tom Hanks) becomes a national hero when the plane he was flying was disabled after striking a flock of geese.
Shortly after taking off from New York's LaGuardia Airport, both engines were disabled and he quickly determined that landing in the Hudson River was his only option. He successfully glided the plane to a water landing, saving all of the 155 passengers and crew members on board.
Directed by Clint Eastwood, Sully tells the story of how an ordinary American, whose work day began in a seemingly normal way, rose to the status of hero with unbridled courage and expertise in the face of panic and danger.
The Magnificent Seven: The IMAX Experience
14A, Western, 133 min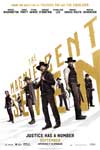 The Magnificent Seven: The IMAX Experience Trailer
In the Old West, the sleepy town of Rose Creek is plagued by savage outlaws, led by Bartholomew Bogue (Peter Sarsgaard). They burn down a church and slaughter many of the innocent civilians.
The widow (Haley Bennett) of one of the men they killed approaches Sam Chisolm (Denzel Washington) to ask for help. He agrees and rounds up a group of six diverse men, including Josh Farraday (Chris Pratt), to take on the outlaws.
Based on the 1960 movie The Magnificent Seven starring Yul Brynner, Steve McQueen and Charles Bronson, which was based on the Japanese film Shichinin no samurai (Seven Samurai) by Akira Kurosawa.